Getting Out of Debt_5b Where to Park the Emergency Fund Safely



Custom Search
Getting out of debt_5b is part of Step 3 which is on Building wealth and security. We have already covered how to build an emergency fund. This time we have to check out the best place to park the emergency fund in the safest possible way where it can grow more.

Keep boosting your emergency fund though to cover up to eight months of expenses. You might think that's a lot of money to save but when you compare that to the money you have to save for your retirement, you will realize how little that emergency fund is. But we should not let this thought deter us from what is important. We will get to where we want to go step by step.

So keep building the emergency fund and while you are doing that, let us figure out what to do with the money you have saved and investigate where to park the emergency fund so that it will be safe. The emergency fund should be put in a bank that is insured by FDIC. You don't want to put the emergency fund in the stock market. Gambling with the emergency fund is not wise.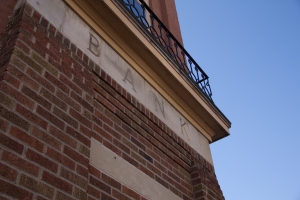 What you have to do is to go to
FDIC Insurance Gov
to find a federally insured bank to put your money in. Being safe with your emergency fund is what matters the most.
Going to the FDIC website will allow you to learn how the insurance works. For instance, did you know that each depositor is insured for at least $250,000 per insured bank? It is also here where you will find a bank that is FDIC insured. If you already have a bank in mind, you can find out if it is insured, where your bank branches are, where your main office is located, its web address, if it's till open, or have a new name.

In addition, you can even find out if it has merged with another or has been acquired by another company. You can even review the history of your bank. Then if you have more than $250,000 deposited in the bank, you want to know if you may be insured for more or less.

You will find this if you use
EDIE (Electronic Deposit Insurance Estimator
For credit unions, go to
http://www.ncua.gov/Pages/default.aspx
to find out how your money is protected. The credit unions that are federally insured protect your money up to $250,000 just liken the FDIC does in bank accounts. To see how much protection you have, go to
their calculator.
This is the way to verify that your money is at an institution that is federally insured. You want to park your emergency savings in a safe place. Don't even put it in a stock market because you want it to be safe. Consider it like an insurance. We'll continue after this short break.
***********************************************
This is not about building emergency fund nor is it about where to park the emergency fund safely and work more on getting out of debt_5b. Rather this is about earning some money that could become part of your emergency fund. Learn how to do it because you have 60 days to do so or you get your money back. Why should you buy it from me instead of the big boys? Because you have extra protection and help from me.

Just
contact me here
but write specifically in the form what you need help in. And now here's the
Emergency Money Machine .
If you have any questions about how much is covered and what are the requirements, go to:

http://www.fdic.gov/deposit/deposits/index.html.
or call this toll-free number 1-877-ASK-FDIC, or a representative at your local bank. By the way, deposits in noninterest transaction accounts from December 31, 2010 to December 31, 2012 will be fully insured regardless of amounts. You will get more information on this at their
guide.
For your peace of mind, the FDIC, established in 1933, has not made any depositor lose his money, even a cent. Its mission is to preserve and promote public confidence by monitoring risks and limiting the effect on the economy should a bank or thrift institution fails. It insures more than $7 trillion of deposits. You can be sure your effort at getting out of debt_5b and building an emergency fund will be protected.

This is how they do it. When a bank fails, the FDIC moves in quickly and employs several options but what they use mostly is to sell the loans and deposits of the failed bank to another institution, effectively making the depositors of the failed bank customers at the new institution. FDIC employs 7000 workers. Does not that make you feel better that your effort at getting out of debt_5b and building an emergency fund will be safe?

Now that we know where to park our hard-earned money, w may think we are ready to start investing. Not too fast. Let's first dwell on what possible financial mistakes others have committed so we can avoid them. That is how sure we can be on getting out of debt_5b.


Refresh
Getting Out of Debt_5b - Step 3b: Build Wealth and Security on Where to Park the Emergency Fund Safely
Getting Out of Debt_5c - Step 3: Build Wealth and Security - Financial Mistakes to Avoid
Return from
Getting Out of Debt_5b - Step 3b: Build Wealth and Security on Where to Park the Emergency Fund Safely to
Debt Challenges Home Page for the Disclaimer.
Site Map of Debt Challenges for Easy Navigation
Getting Out of Debt_5a - Step 3a: Build Wealth and Security More on Emergency Fund
Getting Out of Debt_5 - Step 3: Build Wealth and Security
Getting Out of Debt_5c - Step 3: Build Wealth and Security – Financial Mistakes to Avoid
Getting Out of Debt_5c - Step 3: Build Wealth and Security – Financial Mistakes_1 to Avoid
Where Do You Want to go Next? You didn't find what you were looking for? Search for it at Google right here:

Custom Search